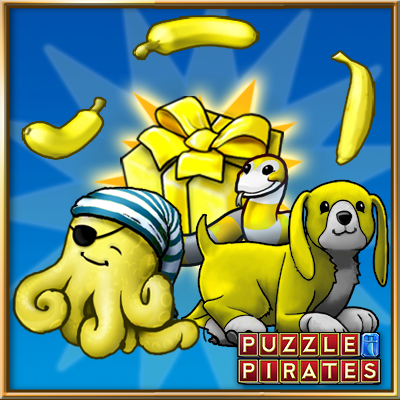 The time is ripe for Banana Mystery Boxes! Split open these boxes for a chance to uncover a Banana Octopus with Sleeping Hat familiar, Banana/White Serpent familiars, and Banana Small Dog pets! Lucky pirates can also split with banana colored furniture, clothing, trinkets, ships and chromas. Watch out for any passing monkeys - they go bananas for these boxes!
From now until 3:00 PM PDT on May 23, 2016 you'll receive a free Banana Mystery Box for every $9.99 you spend on doubloons, or every month of subscription time you purchase!
For more information about the full contents of the 2016 Banana Mystery Box, as well as the official rules, please click here. The Banana Mystery Boxes are only available for a limited time, so grab a bunch today!