Whew! Well, now that the spooky Vampire Class Sloop is gone and fall is solidly upon us, this month's Limited Edition ship is almost certainly going to embody warmer, more comforting themes like quiet autumnal reflection, and the vibrant colors of falling leaves.
...oh, you've got to be kidding me.
As it turns out, in true Hallowe'en spirit, this October's Limited Edition ship is the Skelly Class Sloop! From the looks of these images, however, those of you hoping to get a glimpse at what skellies do when they're not sieging islands will have to keep on hoping, because this ship isn't built to be used by skellies... it's built from skellies!
That's creepy. It's creepy that we did that.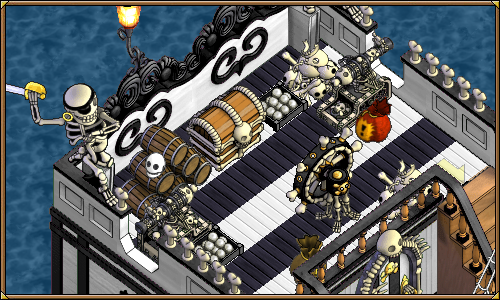 The quarterdeck on the Skelly Class Sloop is flanked by some intimidating skeletal warriors. Don't worry! We're fairly certain that they won't suddenly reanimate and attack your crew.
Fairly certain. Maybe keep an eye out just in case.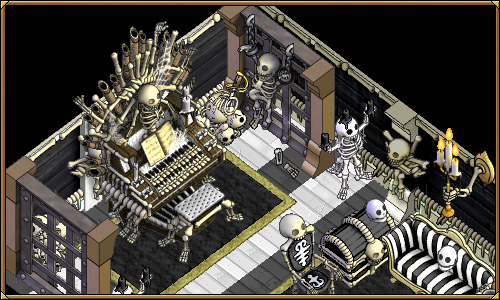 Meanwhile, down in the hold... skulls everywhere! And some comfortable seating. But mostly skulls.
There are plenty of macabre fixtures down here, but the pièce de résistance? An elegant skeletal pipe organ, perfect for playing sinister dirges! In fact, we're fairly certain that it can only play dirges... and perhaps some not-so-jaunty sea shanties that sound suspiciously like dirges.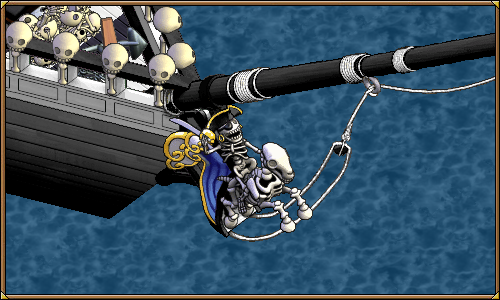 And if that wasn't enough, the Skelly Class Sloop also has a fearsome skeletal horseman figurehead! We're not sure if these two teamed up before or after becoming skellies, but we definitely think they're more intimidating as a duo.
The Skelly Class Sloop is only available until the end of October, so act fast! Only a bonehead would miss out on such a fantastic ship. You're not a bonehead, are you?
Posted by Hermes in Announcements | Oct 01, 2012 | | permalink