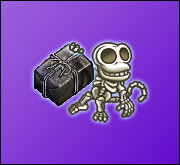 On June 22nd, we will be retiring the Series 2 Black Box in favor of the new Series 3 Black Box. Normally, we like this sort of thing to be a surprise, but as some of the Series 2 prizes will be cycling out of availability at that time, we wanted to take a moment to give some advance notice on exactly what is changing.
The items that will no longer be available from the Black Box on June 22nd are...
Black Painted Chest
Black Poker Table
Black Jaguar
Black Elephant
Gold Chroma (still available from the Gold Box)
If you want one of these items, this is your last chance to try your luck by snagging a Series 2 Black Box from your nearest Black Market!
What exactly will be in the Series 3 Black Box, you ask? Well... we have to save something as a surprise, don't we?