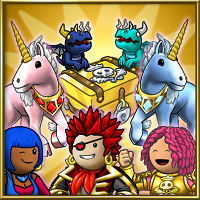 The Gold Box is back in stock at your local bank until 3 PM, February 11th!
February's Gold Box will be a celebratory farewell to our Unicorn and Dragon critters. Finding docile, miniaturized beasts of legend to pack into these boxes has become an increasingly difficult task for the Department o' the Treasure, so this set of Gold Boxes will be your last chance to win Unicorn pets and Dragon familiars. As part of this gilded bon voyage, these creatures will be made available in all previous color combinations!
Trinkets, Chromas, and other items in sensational Ice Blue colors will also be front and center. In addition, hair dyes from all previous seasons will be included in this bountiful prize pool!
These Gold Boxes will be available until 3 PM, February 11th. Hurry over to your local bank and get your hooks on one! Visit this page for a full list of details, and keep your eyes on the horizon for what's coming in the future for a second series of Gold Boxes!
Posted by Mnemosyne in Announcements | Feb 11, 2013 | | permalink