Hallowe'en season is once again upon us, and with it, my yearly campaign to get everyone at Puzzle Pirates HQ to trendily refer to the holiday as "Ween". This year, my efforts are proving to be wildly unpopular, but I won't give up! Giving up is totally against the spirit of Ween. I think.
But what about all you eager, Hallowe'en-observing pirates out there? Does Uncle Ween have a spooky gift for you this year inside his mystical Box of Hallows? Considering that I just made him and that up, probably not. But we here at Puzzle Pirates HQ do: a special Trick or Trinket event!
Until the end of October, all Sea Monster Zones and Brigand King skirmishes have a chance of giving out special Hallowe'en candy trinkets as prizes! You can collect and swap these trinkets with your hearties, or you can save them up and trade them in at the Trading Post for cool monster dolls you can hold in portraits. There are three in all, one for each type of roving monster: skelly, zombie and werewolf!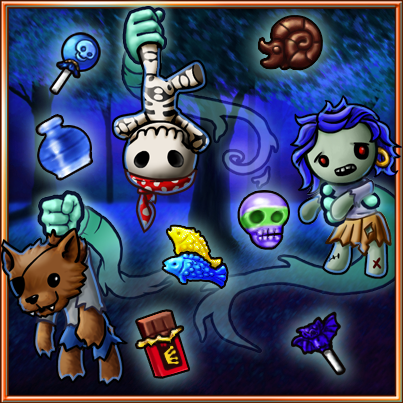 We've also taken this opportunity to make a bunch of Hallowe'en themed items available once again, so if you've been waiting all year for your chance to pick up a mask, or bone cannons, or other scary pirate gear, your wait is over!
All of this fun stuff will only be around until the end of October, so hop in-game and scare up some candy right now!