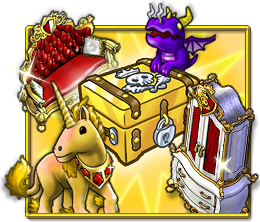 Been watching the countdown for a while? Well, your moment has arrived: the Gold Box is back in stock at your local Bank until August 13th!
New items this month include Deep Gold Unicorns, Violet and Purple Dragons, Gold Dread Masks, Mossy Mousse hair dye, and a slew of Gilded furniture, including new storage items! And don't forget: this month's seasonal color is Plum, so this is a great chance to collect some Plum Gold Box trinkets and snag a few extra Plum Chromas!
The full prize list can be found over here, so read up and head on over to your nearest Bank. There's gold in them coffers!