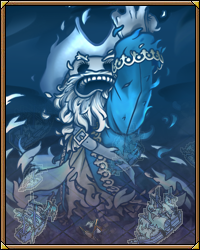 Barnabas and the Haunted Seas await!
First, there were riddles. Then, a trip to the Ice Ocean. Now, it's finally here: the Haunted Seas have arrived in Puzzle Pirates' August Update!
The newest Sea Monster Lair to make its appearance in Puzzle Pirates, the Haunted Seas are the dire domain of the much-feared Brigand King Barnabas the Pale. Featuring ghostly opponents, a new twist on the Swordfighting puzzle and plenty of opportunities to Treasure Haul, the Haunted Seas hold all kinds of excitement and treasure for an adventurous pirate: if you can best Barnabas's minions, that is!
The rewards, however, are certainly worth the trouble. If your vessel can survive the onslaught of ghostly ships long enough to reach and defeat the protectors of one of the Haunted Seas' eerie ship graveyards, a number of juicy shipwrecks filled with haunted chests will be yours for the taking!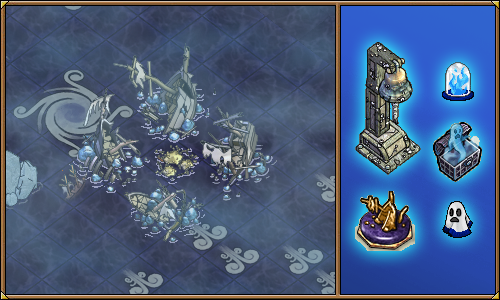 For more information, you can take a look at the official documentation about the Haunted Seas, but we really recommend just heading in-game, stealing a Haunted Seas map from some brigands and checking it out first hand!
The Best of the Rest
In addition to consuming vast quantities of rum, we at Puzzle Pirates HQ enjoy sneaking little changes and additions into the game with every major release. Some of the major such additions this patch include...
Renamed treasure chests in Atlantis! The development team will now be able to sleep at night, as the names for the Atlantean chests will now match up with those of the rest of the game (box, locker, chest).
Changes to the Dadao and Blackjack drop patterns! A picture is worth a thousand words.*
A new, darkened background on some of the areas on the swordfighting and rumble screens! This is intended to improve visibility of things like # of pirates left in the fray. Remember what I just said about pictures?
A change to the ordering of the Voyages table! Now, when you sort job offers by jobber cut, it'll take into account both the distribution (Jobber's Delight v. Even) AND the jobber cut so that Jobber's Delight no longer always gets sorted to the top! Huzzah!
The full release notes can be found over here. We'll see you on the high seas!
* Especially if some of those words are "the piece in the bottom row, second from the left, is a different color now... yeah, it's... no, your other left... no... yeah, the bottom row, that one".
Posted by Hermes in Game Updates | Aug 24, 2010 | | permalink