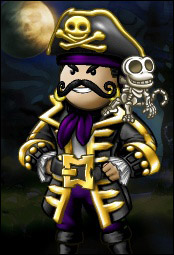 The culmination of months of smuggling, bootlegging, and other forms of ne'er-do-well'ry, the Series 3 Black Box is now available for purchase from your local Black Market!
Indeed, the scoundrels at the Black Market have really outdone themselves this time. New items for Series 3 include the design for the brand new Rogue Class Dhow, the delightfully devilish Dastardly Moustache Wax, and the mythical Shadow Unicorn pet!
That's not all, of course: there's also a whole slew of other Black Market-themed prizes, including the super-rare Skeletal Monkey familiar! The full prize list can be found over here on the YPPedia, but why take our word for it? Head over to the Black Market and get yer mitts on some filthy lucre right now!