While in the Palace Shoppe preparing for holiday festivities, the Developers found a stash of eggnog. While they have built up a good tolerance for the rum over the years, it turns out that they are extremely allergic to the nutritious proteins found in eggs, which seems to have gone straight to their heads. They boarded up the windows, barricaded the doors, and declared they are going to give away Yeti pets.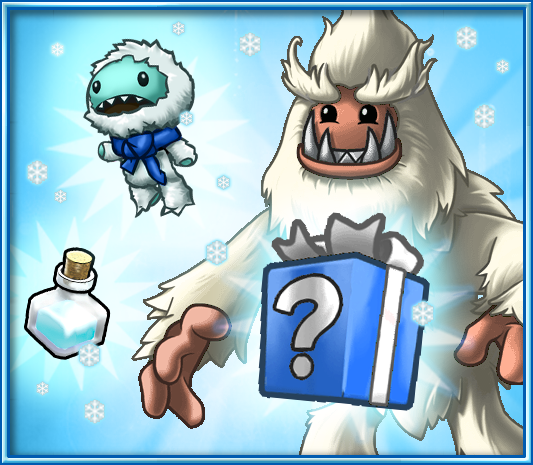 Somehow they squished the giant creatures into tiny boxes, and are giving them away with purchases of $9.99 or more. For each $9.99 spent in a single purchase, receive a Yeti Box! While Yeti pets are rare and elusive creatures, these seasonal boxes also contain Ice Blue Chroma, Yeti Dolls, Holiday Favors and Ice Blue Trinkets!
The Department o' Mythical Creatures would like to make it clear our official position is that Yeti pets are not a good idea. Whatever you do, please, Do Not Open the Yeti Boxes. It will only encourage the Developers to give away more, and we don't want a bunch of Yetis wandering around, following innocent pirates, drawing attention and generally looking awesome.
From now until 3:00 PM PST on January 3rd, 2014, you'll earn a free Yeti Box for every $9.99 you spend on doubloons or every month of subscription time you purchase!
For more information about the full contents of the Yeti Box, as well as the official rules, please click here. Hurry, this eggnog-induced insanity will only last a short time!
Posted by Aphrodite in Announcements | Dec 23, 2013 | | permalink