Searching for inspiration, we here at Puzzle Pirates HQ recently spent some time at the largest gambling mecca in all of the Eastern Seas. All things considered, it went pretty well! Forculus struck it big at poker and used his winnings to form Forculus Industries, a holding company whose sole asset is Fishheadred (who is very bad at poker). Eightycats got yet another kitten tattoo that he is going to regret. As for Greenbones and I, we spent ten minutes playing Treasure Drop and then immediately got back to work, producing the initial sketches for what turned into June's Limited Edition ship: the Casino Class Sloop!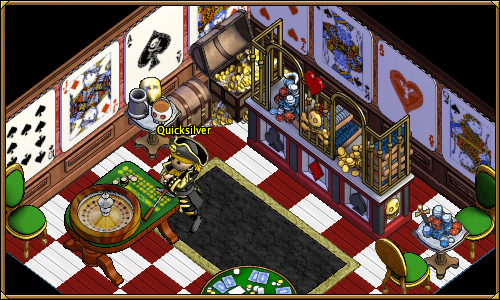 Pictured here is Quicksilver enjoying the Casino Class Sloop's captain's cabin, which has been converted into a little gambling den, complete with cashier's cage and roulette table! The roulette table will spin a number upon request and announce it to you and the rest of the ship, but it won't accept bets. Where would the Pieces of Eight come from, after all? Quicksilver refused to pony up when we asked.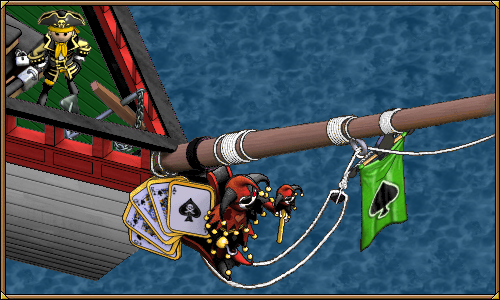 Here's a lovely image of the ship's lucky joker figurehead. My grandpappy always said that the trick to poker was to always have the best hand, and you can't get any better than the royal flush this prow is packing! Quicksilver maintains that it's much more convenient to carry your royal flush up your sleeve. He's no longer invited to poker night.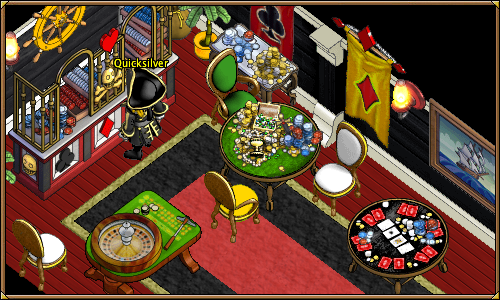 This is the hold of the ship, with a cashier's cage navigation table, a pile of loot that works as a booty chest, and, of course, all the parlor and card tables you could ever need! There are also bilge pumps down there somewhere, of course. You can't play poker with wet cards, after all! Well, you can, but we don't recommend it.
The Casino Class Sloop is only available for the month of June, so head on over to your local Shipyard and place your bets now!