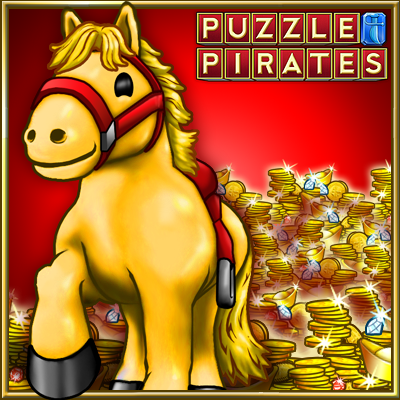 Celebrate the Chinese New Year with trinkets, portraits and a Golden Pony! Host a New Year celebration with Lucky Feast furniture items from the Palace Shoppe. While there, check out the Chinese New Year trinkets, including the new 'Lucky Coin' trinket, available through February 14th. Also in the Palace Shoppe for a limited time, a Golden Pony! Fulfill yer childhood dreams and buy a pony of yer own through February 6th.
Commemorate the Year of the Horse with two new limited edition portrait backgrounds: Diagram's Chinese New Year and Pixelpixie's Xin Nian Kuai Le. There will be more Chinese New Year portrait backgrounds coming next week, so be sure to check your local portrait easel! There are also new limited edition backgrounds for any winter festivities you have planned. Enjoy Corkskooner's Attack of the Yeti, Greylady's Winter Night and Inghild's Winter Solstice with yer hearties.
Update: The Golden Pony won't be trotting off quite yet. It will remain in the Palace Shoppe through February 10th!
Posted by Aphrodite in Announcements | Feb 07, 2014 | | permalink