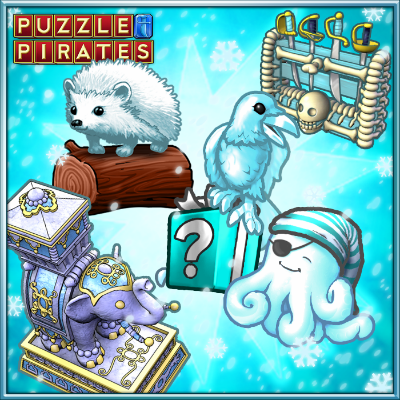 After the eggnog incident in December, the developers made a New Year's resolution to clean up the Palace Shoppe. While digging around in cold storage, they found a number of boxes which were covered in thick layers of ice. Apparently, they had been in the freezer for a long time, and it was no longer possible to decipher the contents of the box. Rather than just tossing them into the sea, the developers decided to give them away!
These Ice Mystery Boxes include Ice Blue furniture, clothing, trinkets, ships, pets and familiars! Open the boxes to save White Hedgehogs, Ice Blue Octopus with Sleeping Caps, and Ice Blue Ravens from hypothermia! Be careful though! Ye don't want to damage the Ice Blue furniture or Ice Blue painted Sloops, War Frigates or Merchant Brigs! Once ye get the Ice Box open, be sure to check for any chroma, trinkets or clothing that may be frozen to the bottom!
For more information about the full contents of the 2014 Ice Mystery Box, as well as the official rules, please click here. The Ice Mystery Boxes are only available for a limited time, so grab something sharp and chip one open today!
From now until 3:00 PM PST on January 27, 2014 you'll earn a free Ice Mystery Box for every $9.99 you spend on doubloons, or every month of subscription time you purchase!
Posted by Aphrodite in Announcements | Jan 17, 2014 | | permalink