Congratulations to all the talented players whose egg designs were selected to be added to the game this year! Beginning today, egg furniture will be available in the palace shoppe, and as prizes in tournaments and competitions! Now is the perfect time to decorate your home, ships, shop or hall for spring.
BREAKING NEWS NOW - Eggpocalypse 2014!
The Department o' HWFO is gathering reports from around the oceans that eggs have been found broken or cracked! There are unconfirmed reports that strange creatures have been sighted on colonized islands. Frantic Ray yells, 'They've hatched velociraptARRRs!", but Panicked Jane swears the're small and fast.
Frantic pirates were seen running from their homes earlier today, clutching broken egg shells. One shocked pirate was mumbling, 'I thought it was chocolate inside...'
When we hit the docks looking for information, there were only a handful of pirates to be seen. When asked about the egg hatching theory, Smug Callum declared "When ye originally decorated yer home with giant, unidentified waist-high eggs, ye thought to yerself, 'That looks lovely. What could ever possibly go wrong?' Well, now ye know!" Paranoid Sam's voice whispered, 'They spy on you for the OMs, you know! The eggs, the pets, even the familiars!' Only the glint of the sun off his foil hat was visible as he ran into the forest.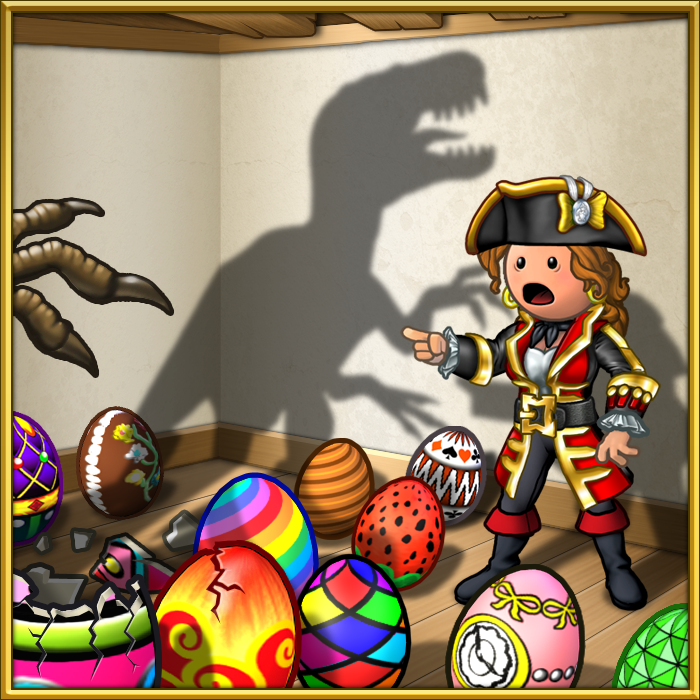 Are eggs safe? We'll have all the facts for you tomorrow!
Posted by Aphrodite in Announcements | Apr 01, 2014 | | permalink