Rally once more to defeat Viking raiders, to unsettle Imperial fortifications, and to gather more treasure! During this event, expeditions will be easier to come by and they will yield extra loot for victorious pirates.
Expedition maps are twice as common to come across while pillaging!
Imperial soldiers will be carrying heavy coin purses, and their patrol vessels in sinking engagements have been stocked with heaps of extra supplies.
Viking raiders have been more successful recently, and are carelessly carrying more of their plunder around with them.
Buried pirate booty overflows with extra pieces of eight.
To support these excursions, Explorers' Halls across the seas have their cartographers and scouts working day and night to produce additional Viking raid and Imperial outpost maps for sale. Visit your nearest Explorers' Hall. Expedition maps may also be found inside some Black Boxes.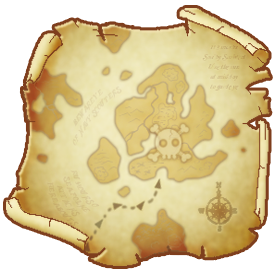 There are baubles and trinkets to be won at both the Imperial outposts and Viking raids, but only for those who own a subscription on Cerulean or those who possess a rank badge on doubloon oceans. This Expedition Rally event will be active from September 13th at 3 PM PDT until September 18th at 3 PM PDT. Plenty of time to bloody some Imperial noses!
Fair winds and good hunting!