It seems while ye pirates were busy making a love connection with Pinkfoot, the Empire's outposts were stocked, and Vikings were more daring with their raids! Load a crew on yer ship, and grab something pointy to prepare for an expedition rally! During this event expeditions will be easier to find, and they will have greater treasures to win.
Quite a bit o' treasure has built up on the Imperial Outposts and Viking raider ships, resulting in more for ye pirates to plunder.
Sinking Imperial Outposts increased rum and shot on their ships, which ye pirates are happy to take off their hands.
The chance of finding expeditions while pillaging is increased.
For ye pirates who prefer exploration over battle, buried treasure expeditions are yielding more pieces of eight.
Be sure to visit the Explorers' Hall for the latest rumors and locations for Empire strongholds and Viking activity. Charts for Viking Raids and Imperial Outposts will appear more frequently. Expedition maps may also be found inside some Black Boxes.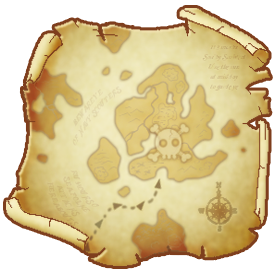 Viking and Imperial trinkets are awarded to victorious pirates who own a subscription on Cerulean or those who possess a rank badge on doubloon oceans. Trinkets can be exchanged for special items at the Trading Post.
This Expedition Rally will be active from February 24th at noon PST until March 3rd at noon PST.
Happy hunting, mates!