During the 5-day period of August 22nd to August 26th, we will be running a limited familiar giveaway!
All players logging on between 12:00 AM PDT on August 22nd and 11:59 PM PDT on August 26th will be eligible to win a familiar in a daily draw. During each event day, we will have three separate draws: one for an octopus, one for a parrot, and one for a monkey familiar.
Below is a complete list of prize familiars for each day of the event.
Thursday, August 22nd: Violet Octopus, Red/Green Parrot, Copper Monkey
Friday, August 23rd: Maroon Octopus, Lime/Blue Parrot, Almond Monkey
Saturday, August 24th: Blue Octopus, Rose/Peach Parrot, Brown Monkey
Sunday, August 25th: Grey Octopus, Yellow/Light Green Parrot, Red Monkey
Monday, August 26th: Mint Octopus, Purple/White Parrot, Yellow Monkey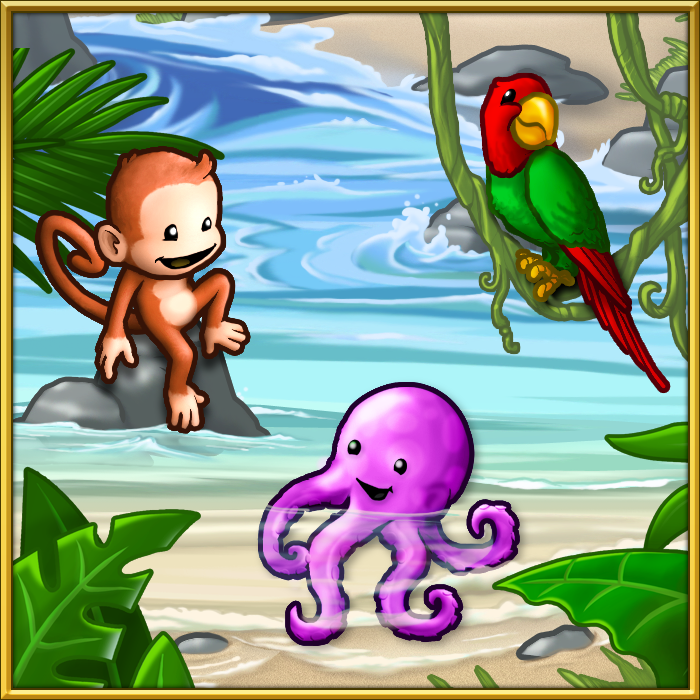 Simply logging in during each daily period is all that is required to register your account for the familiar drawing taking place during that 24-hour period. You are encouraged to say "Yarr!" but it is not absolutely required, nor will it help your odds.
Players are invited to participate on every day of the event.
Daily drawings will be pulled at random based on player logs from that 24-hour period. No additional registration is required, just log in to enter your account into that day's drawing!
Accounts selected to receive a prize familiar will find their friendly critter safely tucked away in the inventory of the last pirate to be used on that account. A congratulatory message will also be left for the pirate, indicating that they have won.
Familiar winners will be announced on the business day following each draw period (the 24-hour window). This means nine weekend winners will be announced on Monday, August 26th.
Appropriate steps will be taken to exclude new accounts created exclusively for the purpose of participating in this event.
Have fun puzzling!
Update: WINNERS ARE BEING POSTED HERE.