Celebrate Arrrbor Day with a new and very floral ship!
May's Limited Edition ship is the Verdant Class Cutter, and it has to be seen to be believed! Thankfully, our renegade reporter Quicksilver is back from his brief involuntary stay aboard an Imperial Navy vessel and has some great images of this new ship to share!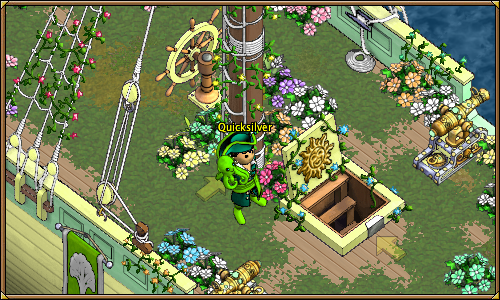 Here's an excellent picture of the ship's deck and helm. That's right: the whole ship is in bloom! It's also covered with a wonderfully soft blanket of grass, perfectly comfortable for those long sessions at the helm or rigging. Note also the custom sun sigil on the hatch leading below decks. Before we head down there, however...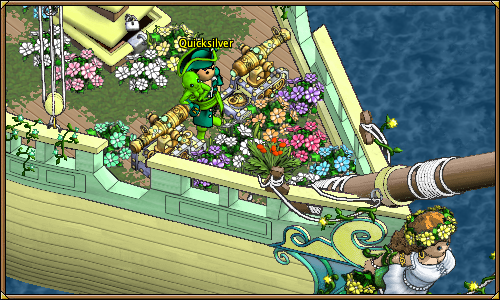 Here's the bow of the ship, and its lovely Queen of May figurehead! As lovely as she is, I'm afraid she's only available on the Verdant Class Cutter; she can't bear to be seen on less floral vessels. This image also showcases the special white rigging found all over the ship.
On that note, let's take a peek downstairs, shall we?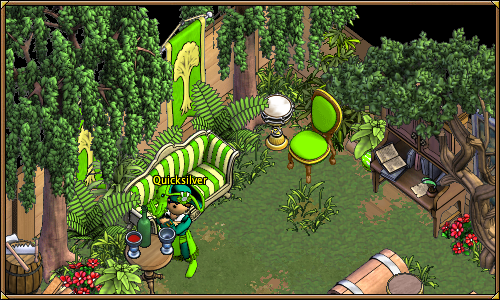 Sadly, the interior has fewer wildflowers than the deck, but it makes up for it in sheer arboreal might! There are a number of tress spread around the belly of the Cutter, but don't worry: they shouldn't impede your Carpentry or Bilging! Just take a deep breath and enjoy the scenery.
The Verdant Class Cutter is available right now from your local Shipyard, but only until the end of May, so get your order in soon!
Posted by Hermes in Announcements | Apr 30, 2010 | | permalink