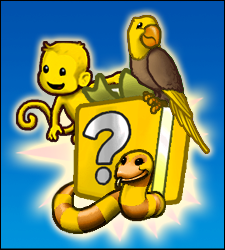 From now until 3:00 PM PDT on May 21st, 2012, you'll earn a FREE Banana Box for every $9.95 you spend on doubloons or every month of subscription time you purchase! That's 5 Banana Boxes for purchasing a $49.95 package, 12 Banana Boxes for purchasing an annual subscription, or even more! Featuring the seasonal color Banana, each Banana Box has a fantastic prize inside, including some brand-new surprises, such as the new Banana Dog pet, the Banana Snake familiar, or the Banana Monkey! What monkey wouldn't love being Banana?!
There's a bunch of other great prizes available, as well: Banana sloops, Banana furniture, and even Banana Spring and Summer trinkets! Don't let it be a cruel, cruel summer: peel open a Banana Box right now! For a full list of available prizes and other more detailed info, the official rules can be found here.
Good luck, everyone!
Posted by Hermes in Announcements | May 11, 2012 | | permalink