Blow the gilded loot trumpets, the Department o' the Treasure has dispatched its heavy-laden fleet of restocking vessels with a brand new series of Gold Boxes!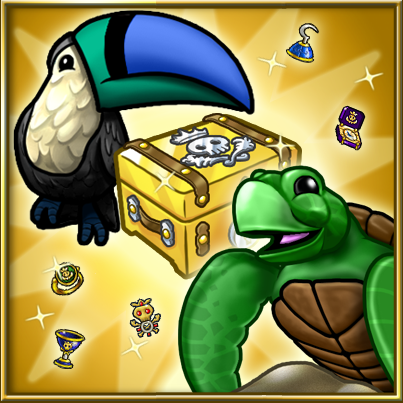 The Department's famed bushwhackers have been researching techniques that allow them to cram these sparkling new boxes with two new species of pirate-friendly critters: the Toucan and the Sea Turtle! The Toucan is an exotic bird with a colorful bill and, when tame, is quite content to perch on a pirate's shoulder. In contrast, tamers have been unable to coax the Sea Turtle into perching on pirate pauldrons, but these gentle grazers are more than brave enough to flip-flop alongside for your swashbuckling endeavours!
Talented goldsmiths have also been hard at work crafting a glittering showcase of new trinkets to fill out the assortment of ornaments already found in these glorious Gold Boxes! Freshly gilded pins, goblets, and other such novelties are now available to collect, trade, and pose with, much to the envy of your glint-aware bird friends.
Bankers across the seas will be carrying these new Gold Boxes until April 15th, 3 PM PDT, when the Department o' Scryin' tell us these new boxes will be exhausted! For a full list of Gold Box rewards and a breakdown of prize distribution, click here.
---
The Department o' the Treasure has been made aware of something called "ecological collapse" and has henceforth been instructed by the Department o' Public Relations to stop taming dragons and unicorns--which coincides with the Department o' Suspicious Coincidences being unable to locate more of these creatures, so I suppose this arrangement works out just fine for everybody. Information leading to the Department o' the Treasure's previous conclusion that these creatures had simply entered into a long period of hibernation has proven to be false. The Department o' the Treasure would like to apologize if its actions have in any way caused extinction-level damage to these noble populations. It would be a shame if future generations only knew of them by legend and myth!
Posted by Mnemosyne in Announcements | Apr 03, 2013 | | permalink