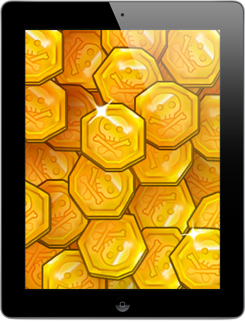 We're saluting the launch of Puzzle Pirates on tablets with a volley of discounted doubloons and free trinkets!
From now until Monday, June 24th at 10 AM PDT, all doubloon purchases of $9.99 or more will come with an additional bonus of 15% more doubloons! If you were waiting for the right time to buy some doubloons, it's now!
In addition, we're also giving away two free trinkets to collect! Logging in on the desktop client will award your account with a Red Apple, while logging in on the iPad will award your account with a Silver Apple. Both trinkets can be collected on the same account, and both trinkets can be held in portraits!
The doubloon discount and apple trinkets are only here for a limited time, so don't dawdle! Both offers will be available until June 24th at 10 AM PDT.