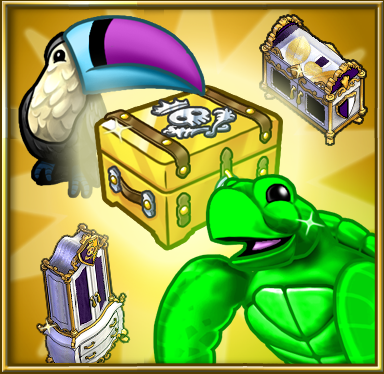 Just in time for the waning rays of summer shine, the Gold Box is back in stock at your local banks!
Lay down your shovels, fold up your maps, and take it easy as this bountiful box of treasure lines your pockets with riches that can't be found in any buried boxes. This new shipment of Gold Boxes offers the chance to win Toucan familiars with new colors (Orange/Red, Light Blue/Violet, Plum/Lime), an emerald Sea Turtle, and a trove of gilded loot ranging from furniture to trinkets.
Gold Box supplies will only last until August 12th, so get them while they last and enjoy the end of summer! For a full list of available prizes, the official rules can be found right here.
Good luck!
Posted by Mnemosyne in Announcements | Aug 02, 2013 | | permalink