In what nautical scientists everywhere are calling a sign that this February will be the most awesome February ever, both Valentine's Day and Lunar New Year fall on the same date in 2010: February 14th! To celebrate, Puzzle Pirates is rolling out a grand assortment of fantastic seasonal content, including trinkets, new furniture, new portrait backgrounds and some other surprises!
Lunar Furniture!
Previously only available as part of the Trading Post, pirates everywhere can now lay their hands on a Paper Lantern or Guardian Lion of their own from their local furnisher!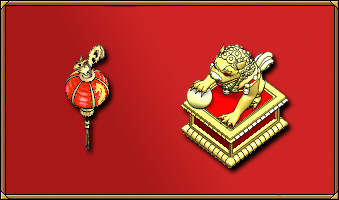 Valentine Furniture!
Tired of wearing your heart on your sleeve? Attach it to the wall of your ship or house instead with the new Heart Tapestry and Crossed Heart furni items, available for purchase from any furnisher!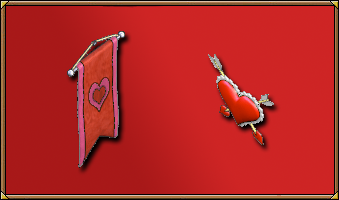 Year of the Tiger!
What better way to celebrate the coming of the Year of the Tiger than with the Gold Cat's esteemed older brother: the Golden Tiger!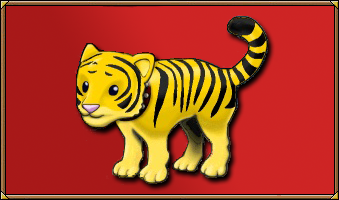 He's anxiously waiting to ring in the new year, so head to the Palace Shoppe and adopt him today!
Trinkets and Backgrounds!
Returning this year to the Palace Shoppe are a wide variety of awesome gift trinkets, and portrait easels everywhere have received a slew of both returning and new Valentine's and Lunar New Year portrait backgrounds! Be sure to take advantage of these before they're gone!
Cupid Class War Brig!
What would the start of the month be without a new Limited Edition ship? This month brings us the Cupid Class War Brig, the premier vessel for pillaging with your favorite hearties! Our correspondent Quicksilver once again brings us an exclusive tour of the new ship...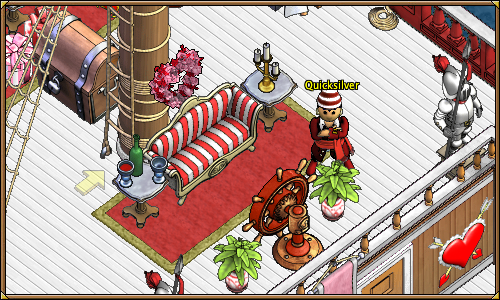 Here is the new stern castle, complete with very comfortable seating for the helmsman. This replaces the 'middle deck' found on the regular War Brig.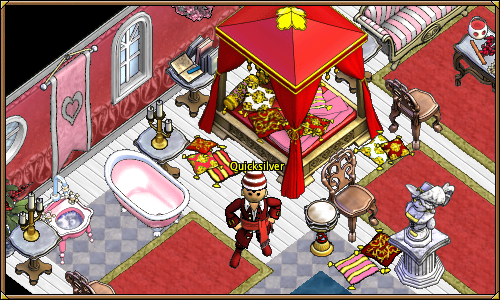 This is a picture of the new captain's cabin, with its fancy embellishments and comfy canopy bed. As an added bonus, the bed doubles as a navigation table! We're pretty sure the charts are stored under the pillows.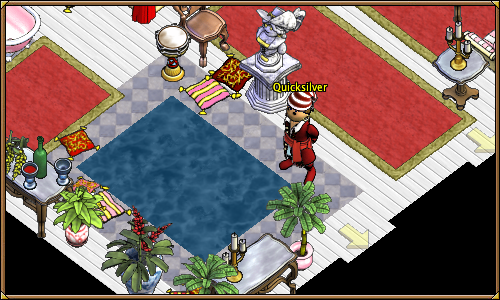 Finally, what Valentine's themed ship would be complete without a hot tub? It's perfect for relaxing after a hard day's pillage, or a particularly strenuous night of dancing in the ballroom in the ship's hold!
The Cupid Class War Brig is only around for a limited time, so check out your local shipyard today!
Only for February!
There's a lot of excitement planned for Puzzle Pirates in February, but make sure you don't miss out on any of these new seasonal items! They won't be available for purchase after
Monday, February 22nd
, so
grab some doubloons
, place your order in-game, and have a happy Valentine's Day and a great Lunar New Year!