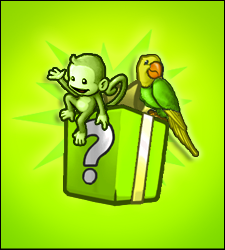 From now until 3:00 PM PDT on March 19, 2012, you'll earn a FREE Lucky Box for every $9.95 you spend on doubloons or every month of subscription time you purchase! That's 5 Lucky Boxes for purchasing a $49.95 package, 12 Mystery Boxes for purchasing an annual subscription, or even more! Featuring the seasonal color Spring Green, the Lucky Box has a wide array of awesome prizes inside, including some never before seen items, such as a green spectral hound straight from the wild otherworld or even the rarest of wonders: the Green Monkey familiar! Wait, really? Egads! What have we done?

Not only that, but there's also a bevy of great Spring Green-colored prizes: Spring Green sloops, Spring Green furniture, and even Spring Green parrots! Try your luck this Spring by tearing into a Lucky Box right now. For a full list of available prizes and other more detailed info, the official rules can be found here.
Good luck, everyone!