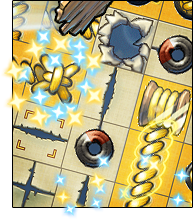 Avast! A new puzzle has washed ashore: Sail Patching! Patching allows pirates to repair damage done to their ship by stitching up tears in the sails. Stitch as much as you can for a high score, but watch out for wind gusts! You can read more about this exciting new addition over here, and when you're ready, Patching is accessible from the Carpentry box aboard any ship, so go check it out!
If you're looking for a good way to celebrate Patching's release, what better way than with a new portrait? We just released a slew of new player-created backgrounds to choose from, as well as a bunch of new eyes and mouths to pose with! Feeling sly, or scared, or a little embarrassed? Now there's a portrait for that!
We also slipped a few more little things into this release, such as a cool new mask inside the Black Box. You can read the full details over here.
We'll see you on the high seas!
Posted by Hermes in Game Updates | Jul 25, 2012 | | permalink