Don't let that stash of fruit rot in the hold of your ship! Old Salts around the ocean have been whispering about markets paying more for fruit and gem thieves being lazy varmints. They also report a parrot squakin' about merchant and brigand ships sailin' with a mighty fine bit o' booty aboard.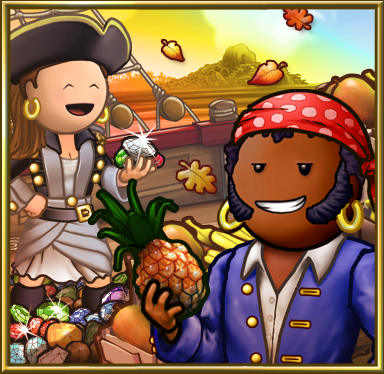 Grab yer hearties and set out to sea to make yer own late fall haul!
Markets are paying up to 25% more for fruit.
Gem thieves are less active, so large quantities of gems are more likely to make it through a voyage.
Merchant brigands are operating at an increased rate and shipping their goods to distant destinations. Their attraction to trading posts is increased.
Compelled by an abundance of fruit, encounters with the mischievous Monkey Boat are more common.
Brigand and barbarian ships are more attracted to islands with a Black Market and are carrying more booty.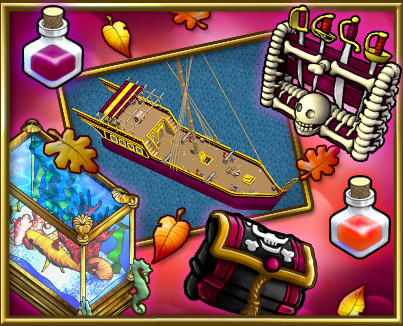 In addition to open markets, Crimson Jim is having an inventory reduction sale! He is including special items free when ye purchase doubloons or subscription time. Ye may find furniture, amulets, pets, chroma and more! Be sure the item icon shows up next to your chosen package on the subscription or doubloon billing page when you go to make your purchase. Some of these items will change daily, so check in frequently so you don't miss out!
The Late Fall Haul event will be active until November 26th at 3:00 PM PST. Good fortunes, mateys!