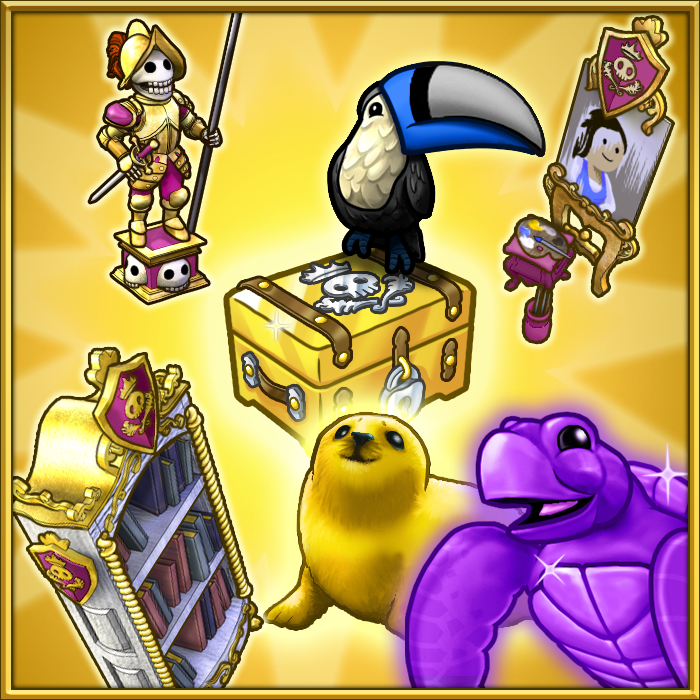 If your autumn is feeling lackluster, fear not, because the Gold Box is back with shiny offerings to brighten your day! This month, discerning pirates will appreciate the richness of Wine trinkets and Chroma. Try out living on the wild side with Scarlet Shampoo temporary hair dye. Add a nice touch of color to any dreary fall day with Toucan familiars and Amethyst Sea Turtle pets. Gilded furniture brightens any room and gold Rat, Cat, Elephant, Seal and Hedgehog pets chase away any doldrums.
There are five new trinkets to collect from this Gold Box - Gilded Cameo Box, Gilded Sailor's Knot, Golden Sextant, Golden Hour Glass, and Golden Turtle Shell. If yer sparkling hoard is overwhelming yer space, visit the Trading Post and trade in Gold Box trinkets for unique golden items. Ye will want to put Golden Turtle Shell trinkets aside in a special display case. A new, gleaming item is coming soon to the Trading Post!
Find Gold Boxes at your island bank until December 16 at 3 PM PST. You can find the full list of prizes, right here.
Posted by Aphrodite in Announcements | Dec 06, 2013 | | permalink