The Puzzle Pirates May update has arrived! There's something for everyone in this month's patch, so let's take a peek inside...
Crew and Flag Housing!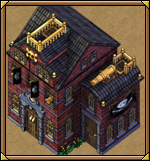 Crew and flag hideouts are now available for Monarchs and Captains to purchase at their local Pirate Hall! Crew and flag members can always enter their respective halls, making them the perfect spots for meetings or crew/flag parties. Additionally, all Senior Officers or Royalty have roommate privileges within their crew/flag hall, meaning that leaders can share and exchange items and PoE with each other using storage furniture!
Available in three varieties, there's a Pirate Hall for every crew and flag. Check 'em out in-game today!
Brigand King Hunts!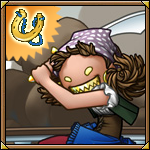 The brigands and barbarians have recently picked up all kinds of info on the movements of the legendary Brigand Kings. If you're the sort that likes to beat up on brigands, they'll be obliged to share this wealth of knowledge with you in the form of new Expeditions to track and defeat a Brigand King!
Not only that, but the Brigand Kings have also picked up some new trinkets, so there are even more prizes available to pirates canny enough to earn one of their ransoms! Don't be fooled, however: despite all this, the Brigand Kings are still the same mighty challenge they always were, so stay sharp!
The Best of the Rest
As always, there are a few other miscellaneous bits and fixes in this release. Some of the more major additions are...
Players on subscriber oceans now get 36 hours of labor per account! Roll up your sleeves and play even more of the new Weaving puzzle, or just help your local shipyard churn out some Verdant Class Cutters!
Portrait items for the Foraging and Rigging puzzles!
Hammocks are now available for manufacture at the furnisher!
The full release notes can be found over here. We'll see you on the high seas!
Posted by Hermes in Game Updates | May 18, 2010 | | permalink