Avast! Take a well-deserved break from your Spring cleaning and go green with all the new Puzzle Pirates items available in March!
Sail the Emerald Seas!
Introducing March 2010's Limited Edition ship: the Emerald Class Sloop! Like our previous Limited Edition vessels, the Emerald Class Sloop has a unique deck plan that sets it apart from both the standard and Frost Class Sloop! As always, we look to roving reporter Quicksilver for some candid images of the new ship...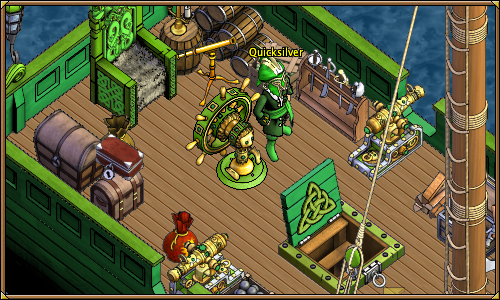 Here you can see the green paint job and some of the fancy fittings that are aboard the vessel. In addition, if you look at the hatch down into the ship's belly, you'll notice some of the custom knot-work carvings that can be found throughout the ship!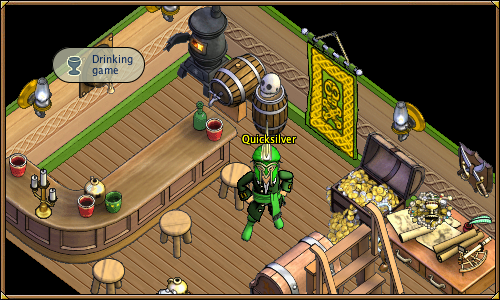 Here's a nice picture of the sloop's interior. Note the fancy knot-work carvings on the walls! In addition to being wonderfully styled, the walls are laden with all sorts of neat items: custom banners, lamps, and even a tap from which you and your hearties can access the Drinking puzzle!*
The Emerald Class Sloop can be ordered right now from your local Shipyard, but it'll only be available for purchase until the end of March, so don't miss out!
Month of the Mala-cat!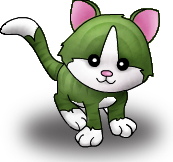 It's back! The cuddliest export this side of Saltstraum Rock is once again gracing the Palace Shoppe for a limited time! It'll be heading back into the Malachite wilds at 3 PM PST on March 22nd, so be sure to adopt yours soon!
More to Come!
We have even more excitement in store for you this March, so keep an eye on the Notice Board and this blog! See you in game!
*The Emerald Class Sloop's Drinking puzzle access is not available on the Crimson ocean.
Posted by Hermes in Announcements | Mar 01, 2010 | | permalink