In the on-going struggle against Imperials, pirate shipwrights have been studying captured vessels in order to better understand the enemy. The fruits of their labor are here, and they can produce a perfect counterfeit of an Imperial ship!
April 2010's Limited Edition Vessel is the Imperial Class War Frigate!
To show off these new ships and prove how real they look, we've convinced an Imperial Admiral that these are all on the up-and-up and that we're fresh recruits to his side. We turn now to Admiral Squid for the grand tour:
The Imperial Class War Frigate
"Normally Seaman Quicksilver would be taking you on a guided tour of the facilities, however the enlisted feel a pesky need for shore leave on occasion, so such duties have fallen upon the Admiralty."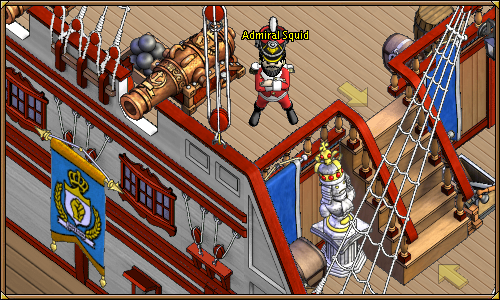 "Here, you can get your first taste of the Imperial way: ships are kept neatly painted, ropes are regularly cleaned, and pesky symbols of piracy are kept at bay. On the main deck, you can even see the gaze of His Excellence the Emperor watching over His domain."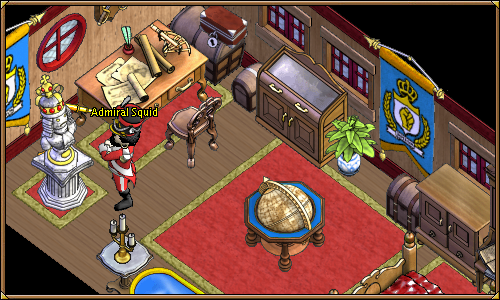 "Inside, a ship's captain is provided a calm place to collect his or her thoughts and reflect upon the responsibilities of command. As always the great visage is there to remind one to always ask: What would the Emperor do?"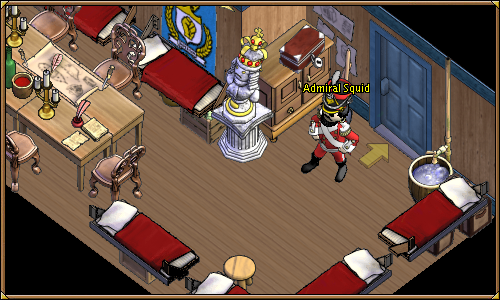 "But lest you think the Imperial forces only favor their officers, you can see here the accommodations provided for the enlisted. Proper bunks and fine furniture! A pirate captain would never provide so graciously for his crew."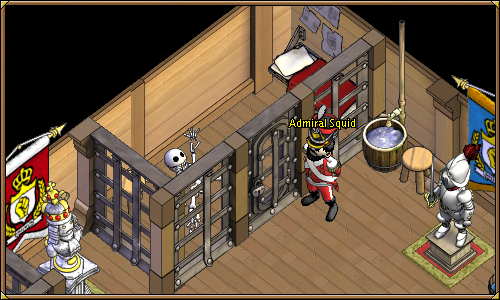 "Unfortunately, as fair and generous as the Imperials are, there are those bad apples that would ruin it for all. Below decks you will find brigs for dealing with such scoundrels. You can see here a sorry soul that refused to give up his piratical ways. But that's nothing that wee need to worry about, right? Harr!"
"Glory to the Empire!"
Order Yours Today!
The Imperial Class War Frigate can be ordered from your local shipyard, but act quickly; it'll only be available for purchase until the end of April. Get yours before the Imperials catch on!
Posted by Cephalopod in Announcements | Apr 02, 2010 | | permalink