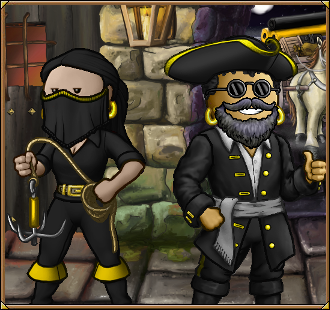 For a limited time, pirates may have their portraits painted with backgrounds that feature secretive Black Market locations. Additionally, all Black Box trinkets may now be held in portraits!
Accomplished artists from the Puzzle Pirates community have made available a series of limited edition portrait backgrounds themed around the infamous Black Markets. Visit a portrait easel between now and November 1st to browse these limited edition backgrounds!
Proprietors of the Black Market have deemed pictorial representations of all twenty-five Black Box trinkets to be acceptable. Ye may now show off yer collection of Black Box trinkets without worry of repercussions from those shadowy agents!
Posted by Mnemosyne in Game Updates | Sep 16, 2013 | | permalink