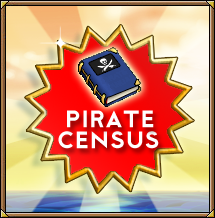 Stand up and be counted!
It's time again for the annual Pirate Census!
Every year, we here at Three Rings like to make this little survey available to Puzzle Pirates players asking for information about themselves, what they like about the game, and what they want to see more of. Our goal is to use the data we get from the Census to help shape the development of the game over the next year or so, as well as to build up a good batch of material for in-office trivia nights*.
Participating in the Census is optional, and your answers are completely anonymous. The survey will only be available until 11:59 PM PDT on Friday, July 30th, so please take a few minutes to help us build a better Puzzle Pirates by filling out the survey right now!
* How many tentacles are there on Cephalopod's desk? The correct answer is the 1988 Los Angeles Dodgers.
Posted by Hermes in Announcements | Jul 23, 2010 | | permalink