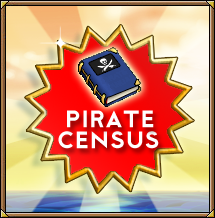 It's time again for the Pirate Census!
Every so often, we put together a survey to gather information about the interests and preferences of the Puzzle Pirates community. The results of the survey remain anonymous. We use the information to get a better idea of who is spending their time sailing our seas and to help us decide what kinds of future projects will be of interest to the community.
The survey will be available through Monday, March 24th, so please take a few minutes to help us build a better Puzzle Pirates by filling out the survey right now!
Posted by Aphrodite in Announcements | Mar 11, 2014 | | permalink