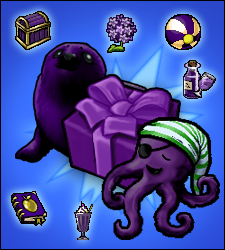 The Plum Mystery Box is back in season! These bountiful prize boxes are packed with sweet surprises to keep your worldly appetites satiated through the summer months. New to this year's Plum Mystery Box is an adorable Plum seal, exotic Plum elephant statues, sinister Plum snake medallions, a smorgasbord of Plum trinkets that can be held in portraits, and stylish Plum octopi with sleeping hats! Opening just one Plum Mystery Box will also award you with a brand new Plum Rum trophy!
From now until 3:00 PM PDT on July 22nd, pluck a free Plum Mystery Box for every $9.99 you spend on doubloons or every month of subscription time you purchase! That's 5 Plum Boxes for purchasing a $49.99 package, 12 Plum Boxes for purchasing an annual subscription, or even more!
The time is ripe, so claim a Plum Mystery Box now! For a complete prize list and more, you may peruse the full promotion rules right here.
Good luck, and have a great July!
Posted by Mnemosyne in Announcements | Jul 12, 2013 | | permalink