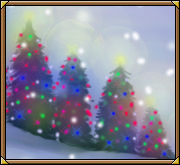 "Melquire's Winsome Coast" background, now available!
The holiday season is here, and we're celebrating with two brand new player-created backgrounds fit for the festive season!
Melquire's Winsome Coast is a snowy solo background set against a line of festive firs. Dexla's Warm Fire is a solo background featuring a cozy sitting room sheltered from a particularly chilly island winter. These two great backgrounds will be available until two Portrait Days from now, Tuesday, January 3rd at 3 PM PST, so don't miss out!
Happy Portrait Day, everyone!