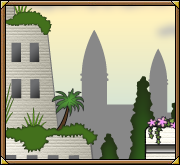 "Verziga's Hanging Gardens" background, now available!
Our "exploration" themed Portrait Days continue this week with two new multi-pirate backgrounds set in some exotic and blooming locales!
Verziga's Hanging Gardens is a two-pirate background set in front of a fantastic (and one might even say mythical) garden temple. Lulee's Nederland Tulips is a colorful expansive background featuring fields of fresh tulips and some rather large windmills! These two backgrounds, along with the two backgrounds made available last Portrait Day will be available until Tuesday, September 13th at 3 PM PDT, so head to your nearest portrait easel and try something new!
Happy Portrait Day, everyone!
Posted by Hermes in Events | Aug 16, 2011 | | permalink