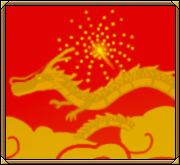 "Charavie's Dragon Celebration" background, now available!
This week on Portrait Day: a festive array of backgrounds perfect for Chinese New Year! The full list is as follows...
Cayenne's New Year's Festivity Garden
Charavie's Dragon Celebration
Charavie's Crocodragon Party
Greylady's Chinese New Year
Inghild's Year of the Dragon
Velternal's Dragon Dance At Dusk
There's a new background for every size group, so round up your hearties and head over to your nearest portrait easel today! These backgrounds will only be around until Wednesday, February 1st at 3 PM PST, so don't dawdle: start your New Year celebrations now!
One final programming note: this is the last Portrait Day! From now on, new player-created backgrounds will be released alongside other seasonal stuff, like Limited Edition ships or other goodies. Thanks for following Portrait Day, and keep your eyes on the blog and the Pirate News for future portrait background info!
Happy Portrait Day, everyone!