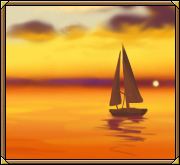 "Albini's Greek Isle Sunset" background, now available!
The Portrait Day theme for August is "exploration", and we're kicking things off this month by navigating our way to a couple of very hospitable looking coastal backgrounds!
Albini's Greek Isle Sunset is a solo background with a view of a lone vessel sailing close to shore at dusk. Ariastess's Aegean Isle is a two-pirate background set atop a roof overlooking a mild rocky inlet. These two great backgrounds will be available until Tuesday, September 13th at 3 PM PDT, so grab yer best mate for a portrait today!
Happy Portrait Day, everyone!
Posted by Hermes in Events | Aug 02, 2011 | | permalink