When an occupation demands copious consumption of rum, grog, and swill, it is quite understandable that pirate tales are regularly dismissed as foolery and poppycock. Tavern talk of voodoo curses, webbed mermen, and spectral ships just seems too fantastical to be true. But any meaningful time spent with a crew can easily capsize those expectations.
January introduces a new ship for pirates familiar with all manner of fantastic and terrible powers slumbering beneath the sea! The Hunter class sloop has been commissioned foremost for fortune and vengeance. Quests for sea-bound revenge should no longer be monopolized by maimed whaling captains!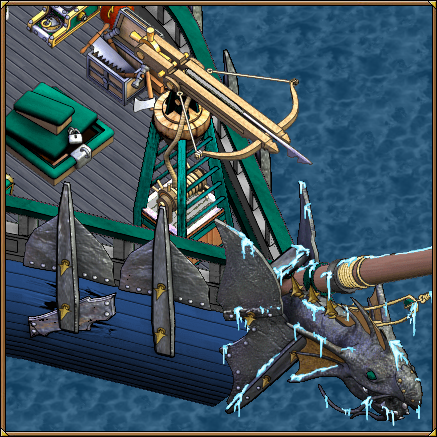 A fearsome prow features the visage of a mythical leviathan. This will either convince very real leviathans that you're just here to hang out, or those same leviathans will immediately see through the ruse and attempt to tear your ship apart like tissue paper. Either way, it certainly looks terrifying.
You may have also noticed a harpoon launcher located behind the prow. Unfortunately, it does not fire harpoons, but it will scare the wits off a Sphinx so long as you don't tell anyone about that shortcoming!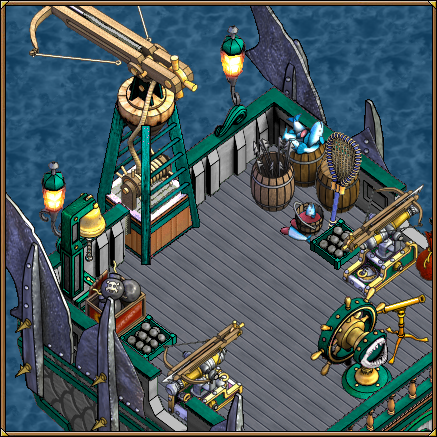 Successfully returning from an adventurous excursion into the unknown means that proper preparation was handled beforehand. To that end we present: chum. Buckets of chum. Oh, and cannon balls, black powder, nets, lucky bells, and more harpoon launchers of questionable build quality. But really, the star of this image is the bucket of fishy chum.
Not impressed by chum? How about a barrel of harpoons? How about numerous barrels of harpoons? Because those are also included!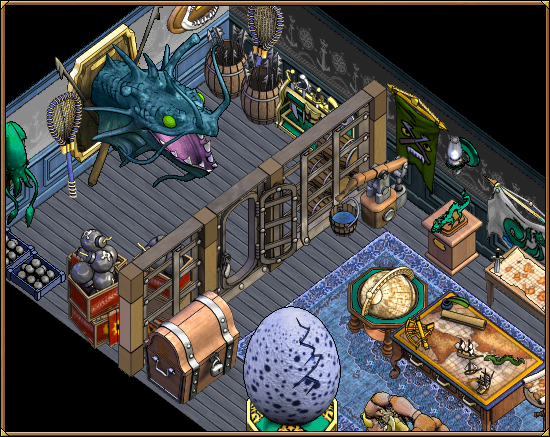 Venture below deck to find this fabulous trophy room! Concoct your own stories behind these glorious items! Come up with a reason why that sea monster head is kept in a locked cell! I like to believe that the sea monster head responsibly asked for its confinement one rum-fueled night when he lost track of his designated navigator.
Whether its for fortune or revenge, the Hunter class sloop aims to provide you with an entertaining platform for striking out at sea monsters, engaging in expeditions, or telling your tallest of tales! The Hunter class sloop will only be available during the month of January, so hurry to your local shipyard and get one while supplies last!
Posted by Mnemosyne in Announcements | Jan 01, 2013 | | permalink