Here at Puzzle Pirates headquarters, we love our players almost as much as we love our rum*. We wouldn't be in operation today if it weren't for players just like you making purchases from us, and we've been thinking a lot lately about how best to reward such players for their continued support of our game with more than just a subscription or a pack of doubloons. That said, I'm happy to be able to announce that just those sorts of loyalty rewards start today!
The Monthly Rewards program!
Effective as soon as you read this, all of our current subscribers will receive a special reward item as a thank you for being such an important part of Puzzle Pirates. Not only that, but players who are subscribed in subsequent months will receive additional reward items! Exactly which reward item will be received will be determined on a monthly basis, suffice it to say the items will be unique to the Monthly Rewards program, will not repeat, and will frequently feature the special promotional color Royal Blue.
Don't worry, though: we haven't left out doubloon oceans! From now on, each month our doubloon players will have a special offer made available to them in our Billing Center that will give them the Monthly Reward item for free along with their first doubloon purchase of $9.95 or more! These will rotate each month along with the subscriber Monthly Reward, so if you primarily play on a green ocean, you won't miss a thing!
What's the Monthly Reward item for June? Why, it's this lovely Royal Blue and White tricorne, in either gender, depending on the pirate from which you claim the reward.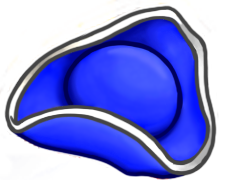 We have some pretty interesting ideas for future Monthly Reward items, as well, so be sure to watch the Spyglass blog in the coming months for teasers!
The answers to some specific questions you may have on this new program can be found below the fold, but otherwise, thank you for supporting Puzzle Pirates, and your Monthly Reward item should be waiting for you in-game**!
Hopefully Now Not-So-Frequently Asked Questions
How do I claim my Monthly Reward?
If you've already qualified for your Monthly Reward item, you simply need to log in to the pirate you wish to claim the reward item on. Once you do, you should receive a pop-up on your Ahoy panel stating that you've earned a new reward. Clicking the "Claim" button on that pop-up will bestow the item to the pirate you are currently logged on as.
Remember, you can only claim these rewards once, so make sure you log on to the correct pirate on the correct ocean before hitting the "Claim" button!
Be more specific about what you mean by 'monthly'. Does it go by the date I started my subscription, or...?
The Monthly Rewards program goes by calendar dates, meaning that if you make a purchase with us or are subscribed during a particular calendar month, you will earn the reward for that month. This first Monthly Reward is a little strange, however, and has an 'eligibility period' of June 15th to June 30th, rather than the whole month. From now on, though, it should work as I described.
Basically? Make sure you either make a purchase during or are subscribed for some period of every month and you'll get your reward. Yes, this even means that you can start a new monthly subscription on June 30th and have that first month earn you both June and July's Monthly Reward items! Don't feel bad: you earned it. :D
How is this different from the Golden Doubloon Club on Crimson?
It's very different.
The Monthly Reward program is just a reward item as a thank you for making a purchase with us that month. The Monthly Reward isn't in and of itself a recurring purchase (it's not a 'Club'), it doesn't come with a doubloon stipend and it doesn't change your name color to purple.
Just remember that the Monthly Reward is different from the Golden Doubloon Club and you should be set. :)
What if I both subscribe and buy doubloons on the same account? Can I get two Monthly Rewards?
You sure can! You will automatically get one Monthly Reward for subscribing, and another one as soon as you buy a package of doubloons worth $9.95 or more. Double-dipping is fine with us, so long as it doesn't involve potato chips.
You can claim the Monthly Rewards on any ocean you please, too, so if you want to subscribe and buy doubloons and then claim both rewards on a doubloon ocean, you totally can! The same goes for subscriber oceans. Hey, it's your reward, so we figure you should be able to get it where you want it. ;)
What about if I gift a month of subscription to a friend? Or if I coinscribe?
They should receive the Monthly Reward item as well, as they would be considered subscribed. Also, you're a particularly nice friend. :D
Coinscribing is the same as well: if you're considered subscribed, you get an item. Yay you!
* And we really love our rum. Seriously, there's a bar in the back of our office. :D
** And if you haven't made a purchase with us yet, there's still time! You can snag your Monthly Reward item right over here.