Maties! Starting November 14th, we will be looking for your feedback on the game's new user interface. Tablet users of Puzzle Pirates will recognize this UI. The developers have been working hard to bring the new UI to the desktop version of the game.
To access this alpha phase of testing, you will need to download and install a special Ice Ocean client to your computer. A link to the client download and further information about this testing can be found here. Please note that during this phase of testing, access is restricted to current subscribers or players who have purchased at least 24 doubloons in the last 30 days.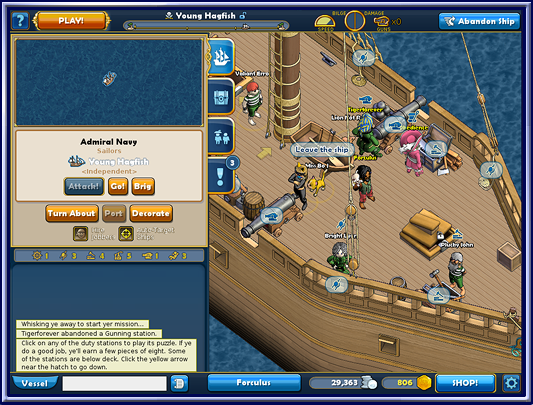 Please post feedback in the Ice Discussion section of the forums. Be sure to check the "Puzzle Pirates X" sticky at the top for feedback guidelines. This is an alpha test for the new UI, meaning it is still in early development and further changes will be made. The developers want to hear your feedback and observations of the new UI and its performance.
Once you've spent some time with the new UI, please fill out our feedback survey before November 21.
Posted by Aphrodite in Game Updates | Nov 14, 2013 | | permalink