They say Odin himself sailed the first Valkyrie Class Sloop down from Asgard to the seven seas, where he made a fortune selling durians. Awestruck shipwrights studied the vessel, committing every faceted detail to memory, and have managed to recreate the design right down to the fragrance of its hold.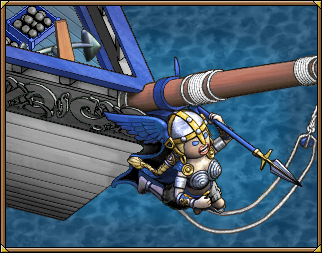 With the speed of wings o'er the battlefield, this formidable bearer of the honoured dead splits the sea with her raised spear! An extremely metal thing to do.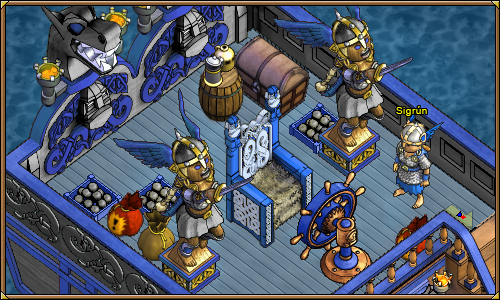 On the quarterdeck sits a throne flanked by Valkyrie statues, a convenient cup of nourishing rum, and gunpowder next to open flames! Some may call it a deathtrap, but for the Vikings it cuts some of the red tape involved in reaching Valhalla.
The captain's cabin is a shrine to coastal raids, plunder, and bears. It is a place where one may discreetly practice throwing your fists into the air while screaming "Odin!"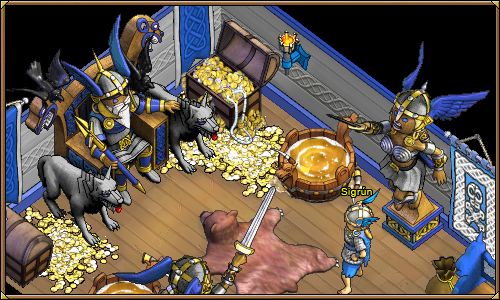 Stepping below deck, one finds the traditional belly of a sloop transformed into a luxurious hall for feasting, revelry, and games -- a nauticaul Valhalla! A grim, one-eyed, wooden effigy of Odin presides over this floating mead-hall, guarding the ship's treasures, bolstering the crew's spirits, and startling unwelcome visitors. Wooden Valkyries stand, swords upraised, beside the feasting tables and mead vats, which function as drinking tables!
Combining the speed and versatility of a sloop with the character of a longship, the Valkyrie Class Sloop is currently available from now until the end of March. It sails off to Valhalla after that, to await Ragnarok beyond the reach of mortals, so visit your local shipyard soon!
Posted by Mnemosyne in Announcements | Mar 07, 2013 | | permalink