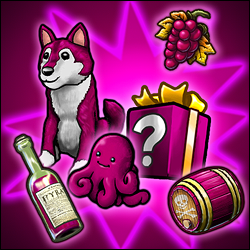 We here at Puzzle Pirates HQ are folks of simple tastes. We feel that old traditions are among the best ones, and so we like to celebrate the harvest season the way it's been celebrated for hundreds of years: we take a bunch of awesome items, stuff them all into boxes stamped with question marks, and then give them away! Some of you may take issue with our grasp of history. In our defense, our history is probably a lot more interesting and fake than yours*.
From now until 3:00 PM PST on November 19th, 2012, you'll earn a free Wine Mystery Box for every $9.95 you spend on doubloons or every month of subscription time you purchase! That's 3 Mystery Boxes for purchasing a quarterly subscription, 5 Mystery Boxes for purchasing a $49.95 package, or even more!
Every Wine Mystery Box contains a cool prize. What's new this month? Well, the Wine Box contains a variety of previously unavailable furniture from past Limited Edition ships! If you've been coveting fantastic furni like the wine crates from the Smuggler Class Sloop, or the elegant bookcase from the Vampire Class Sloop, this is your chance to snag them for yourself. There's also a wide variety of other Wine-colored prizes available, including unique Wine Box trinkets, Wine Dogs and Wine Octopus Familiars!
Don't get stuck whining about missing out: snag a Wine Mystery Box of your own right now! For a full list of available prizes and other more detailed info, the official rules can be found here.
Good luck, everyone!
* For one, ours has a lot of robots in it. Also, Blackbeard was a velociraptor. From space.