Three winters ago, an unfathomable (albeit adorable) EVIL arose in the frozen north that threatened to engulf the ocean. The return of the dread seal king A'uk was narrowly stopped through the combined bravery of pirating folk and the spirits of a lost race of warrior penguins.
Hark! Evil once more rears its sinister head! The seal-sorceress X'ukara, mother of A'uk, has risen from the snows to punish the realm for her son's imprisonment. She has once more called forth the legions of A'uk to wreak her vengeance!
Arise ye pirates and embrace yer inner penguin! The fate of the very ocean hangs in the balance!
Each ocean has been divided into 4 teams, with pirates from the same crew all being placed on the same team. Pirates can participate and earn points for their team by raiding Sealperial Outposts, collecting artefact pieces and assembling them near the docks on certain islands. Crafting 3 copies of the same artefacts grants Swashbuckling Penguins furniture items:
Ancient Penguin Fetish, Ancient Seal Fetish and X'ukara Statue
The competition ends on Wednesday, January 2nd.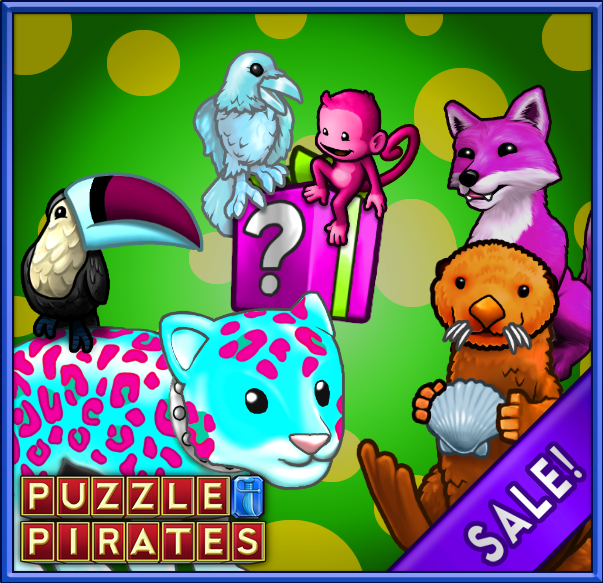 While our backs were turned, some magenta monkeys pilfered our eggnog and gained access to the dye facilities, resultin' in color combinations that nature ne'er intended! Ravens, Monkeys, Toucans, Pets, 'n more have fallen victim to these color obsessed bandits.*
From now until 3:00 PM PDT on January 2, 2018 you'll receive a free Booch Box for every $9.99 you spend on doubloons, or every month of subscription time you purchase!
For more information about the full contents of the Booch Box, as well as the official rules, please click here.