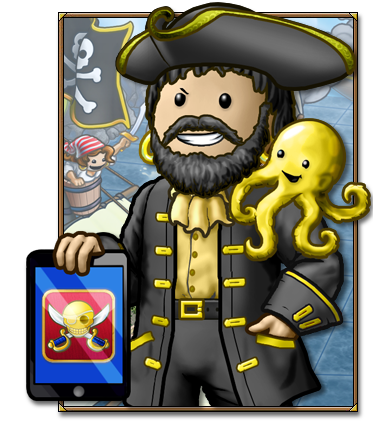 Today, we are officially announcing the launch of Puzzle Pirates on tablet. As mentioned previously by our own Captain Cleaver, the tablet game is an expansion to the existing game, offering the same Puzzles and game experience on multiple tablet devices, starting with the iPad.
Over the coming weeks, we'll be sharing more information on the two key parts of the tablet project: our take on a refreshed user interface that we hope will make the game accessible to all users, and the additions we've made to the puzzles to make them fun to play with a touch interface. Note: the puzzles will remain unchanged for desktop users, but we do hope you'll be intrigued to see what we've added. We hope to use the next couple of months before we take the tablet version live to get your feedback on puzzle playability.
Sign up here to receive launch notification!
Posted by Mnemosyne in Announcements | Mar 27, 2013 | | permalink