As ye may have heard, In the ice-choked seas of the far north, the Toymakers toil through spring, summer and autumn. Compelled, perhaps, by forgotten oaths or an ancient and primal desire to spread merriment and joy, they painstakingly craft shipments of shiny new playthings. As the days grow short, they load their baubles by the cartload into a fleet of waiting merchant vessels, southbound for ports across the ocean and the homes of small pirates.
But a rumour has spread among the brigands, those scurvy cut-throats who care nothing for the spirit of the season, that "thar be rum in them tubs". And so they've fallen upon the toy-laden fleet, seizing the Toymakers' goods! Help the Toymakers recover what's left o' their goods.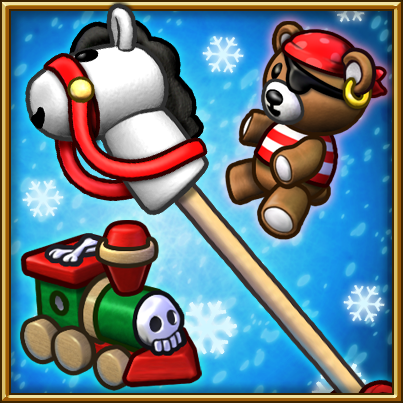 From now until January 2nd, battles with Brigands and Barbarians have a chance to award special toy part trinkets as prizes! Sets of toy parts may be brought to trading posts and assembled into brand new toy furniture items: Pirate Teddy, Hobby Pony, and a Loot Train! Decorate your home and satisfy yourselves by giving a good wallopin' to bands of miserable marauders!
Reclaim what was yours and teach those roaming scallywags that it's a lot more polite to simply buy rum! Join a voyage to hunt down some toy parts today!