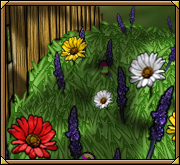 "Sharktail's Blooming Meadow", Spring '09 contest winner!
Ahoy there, pirates!
A whole slew of special Spring-themed bonuses are now available from Puzzle Pirates! For a limited time, you can earn a fine bonus gift in our seasonal Spring Green color just for picking up a package of doubloons or some subscription time!
Remember, new bonus offers like these sail ashore every week, so make sure you check our website or press the Buy Doubloons! or Subscribe! buttons on your Ye panel to find out what's up!
From everyone here at Puzzle Pirates, have a great weekend, and we'll see you in-game!
Posted by Hermes in Announcements | Apr 09, 2010 | | permalink