Puzzle Pirates' latest release brings with it a wide variety of new furniture for display in your favorite hideaway or ship! Want a sneak peek at what awaits you at your local Furnisher? Read on!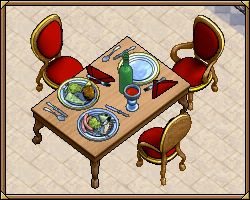 Here's a dining room set up with some of the new items! Pictured are three of the four new desktop 'food' items: the place setting, the fancy meal and the meal with wine. These delicious-looking plates are being served up on the new large table, furnished with enough maroon upholstered chairs for the captain and his best mates!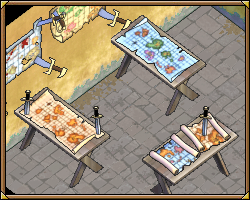 Here's a bungalow back-room all laid out for piratey plotting. Using the torn wall map, desktop map and large desktop map that are now available, it'll be easy to make your captain's cabin, hideout or shipyard look that much more authentic! It also goes without saying that they go great with any of the existing globe furniture items.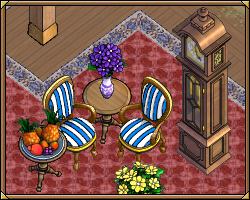 Finally, here's a small sitting room fully appointed for entertaining guests! Keeping the striped chairs company are a planter of wildflowers, a small vase of wildflowers and a bowl of fruit. The centerpiece in this room, however, is the majestic Captain's clock, which is modeled after the antique grandfather clock that graces the very unique Three Rings offices!
All of these items are now available for purchase from your local Furnisher, so head on down and check them out!
Posted by Hermes in Announcements | Apr 23, 2010 | | permalink