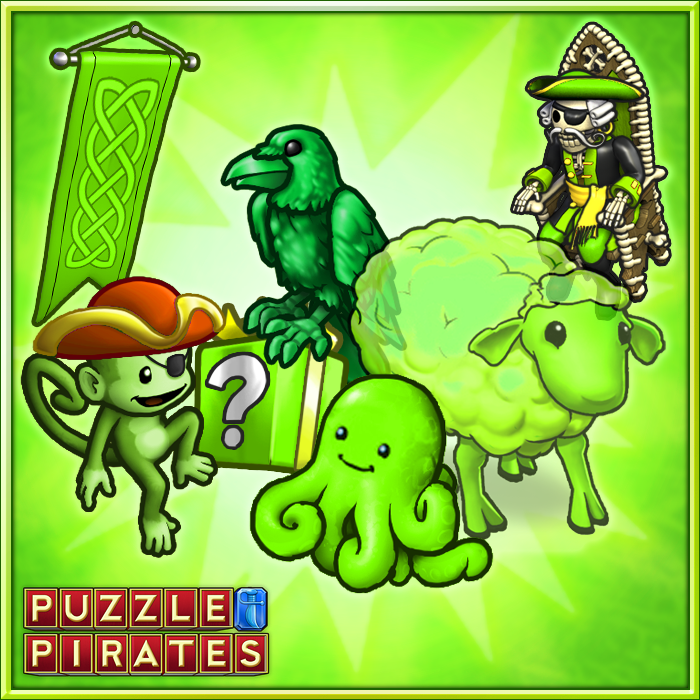 Spring Green Mystery Boxes arrive as a sign that winter is over! Celebrate the thaw and get ready to show off yer green thumb! No green thumb for ye? Then get yer hands on a four-leaf clover, a spring sprout or other Spring Green trinkets.
Do ye have the luck of the Irish? This box has new Spectral Sheep pets, and three colored familiars: a new Emerald Raven, a Green Monkey with tricorne hat, and a Spring Green Octopus! Ye'll be proud to show yer green with Spring Green painted ships, limited edition furniture, chroma and clothing. Grab yer hearties, raise a mug, and join the shanty to celebrate the season!
For more information about the full contents of the 2014 Spring Green Mystery Box, as well as the official rules, please click here. The Spring Green Mystery Boxes are only available for a limited time, so grab a little green today!
From now until 3:00 PM PDT on March 17th , 2014 you'll earn a free Spring Green Mystery Box for every $9.99 you spend on doubloons, or every month of subscription time you purchase!
Posted by Aphrodite in Announcements | Mar 07, 2014 | | permalink