Avast ye merry gentle-rogues! Can ye smell the new Limited Edition ship being baked up for this month? It's sleek, small, and a holiday treat for all! It's a Gingerbread Class Sloop! So we've dropped down the chimney on our festive ol' chum the good captain Candybeard, who has once again graciously allowed us to take a tour. So welcome aboard his fresh-from-the-oven snackship "the Spiced Clownfish".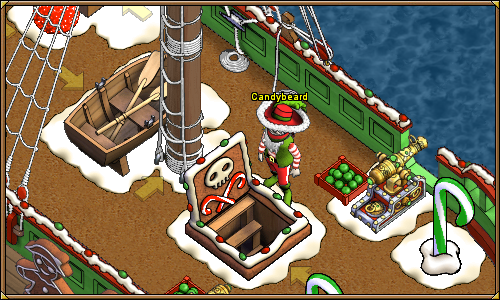 Here's the jolly olde cap'n standing on his tasty-looking deck, all iced to perfection with pirate-sized candy-canes and giant gumdrops galore. I asked the good captain the secret of the waterproof gingerbread decking, but I couldn't hear what he said through the muffler he had 'round his face! Moving right along...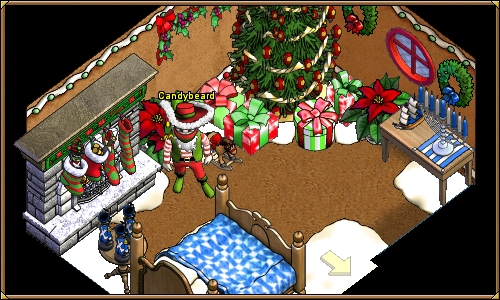 Here we see the dread pirate Candybeard in his private cabin. Oooh! Look at all those goody-stuffed stockings by the fire! And no wonder the Roger is Jolly when there's cookie walls all decked with holly! And toys too for when there's no pillagin' to do. Apparently, Candybeard is not only a fearsome cutthroat, but he's also good at entertaining himself! That is a rather handsome model ship there, perhaps he wouldn't mind if I just borrowed it for a little while...
Yoho! A bakery in the hold! A grand tradition in the Gingerbread Class continues, filling the whole ship with a heavenly aroma - surely unusual for a pirate vessel! The only danger here me hearties, is chewing a hole through yer own hull!
The Gingerbread Class Sloop is only available until 3:00 PM PDT on the 1st of January 2012, so grab some grog-nog ye olde sea-dog, and jog on over to yer local Shipyard now!
Happy Holidays!