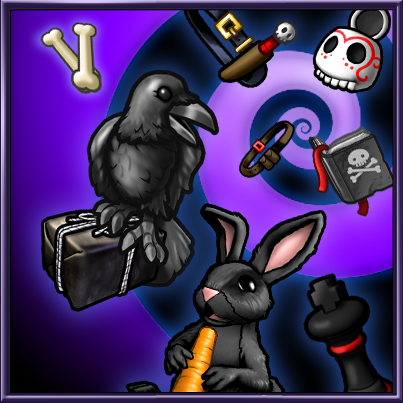 The Smuggler's Guild is circulating information among members about a new series of Black Boxes. We've managed to get our hands on the information and decoded it for ye pirates. The skeletal monkey has gone into hiding, but Series 5 will have a new black raven familiar. For those nights when ye need to blend into the darkness, black seals, pigs and rabbits have been added to the box.
Ye'll also find new Black Box trinkets that can be held in portraits. Be sure to take yer trinkets to a Trading Post, as there are whispers of a new familiar scurrying in from the jungle. Purchase a Spider Box artifact and ye'll have a creepy-crawly all yer own!
Looking for a Black Market? Tell 'em Lenore sent ye. Find a full list of the contents for series 5 Black Boxes here.
Posted by Aphrodite in Announcements | May 01, 2014 | | permalink